The Little Church with a Big Heart
Click here for pictures of Susan's Retirement "Get Together"
---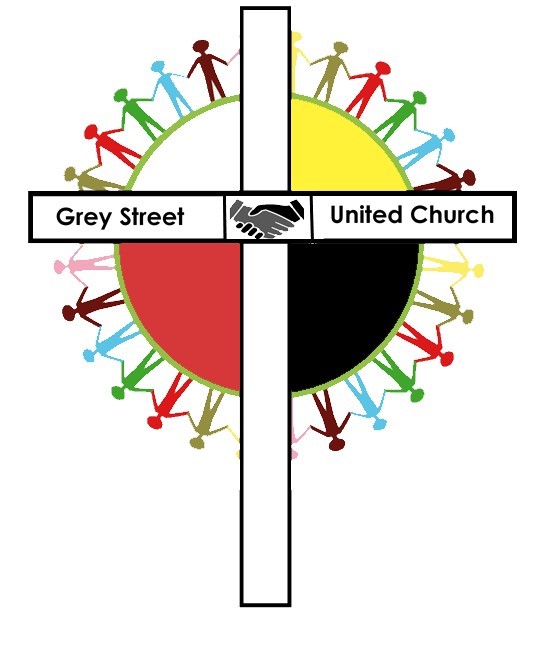 2021 – Community of Faith for 75 years
Today, on behalf of the 75th Anniversary team, I am pleased to share our new church logo with you.
As part of our church 75 Anniversary, the planning team asked Greg Holowka to create a logo for our church. Greg submitted a number, of ideas for review. They all included the cross, the handshake and the name of the church. The team took time to reflect on the submissions and felt it was important to add the coloured insets and the circle of friends.
Greg chose the cross as the foundation of the logo; it is one of the first things you notice when entering the sanctuary and is a reminder that the Risen Christ is the centre of what we believe. The handshake represents our Grey Street welcome to everyone.
The circle of friends represents diversity, that all people, no matter colour, race, gender, or abilities are welcome in our home.
The coloured inset is representative of the colours on the United Church crest. These colours are part of the United Church of Canada's acknowledgement of the presence and spirituality of Indigenous people in our church. The colours originate from the Medicine Wheel. The Medicine Wheel, reflects respect for diversity and interdependence, and is often represented in the four traditional colours of yellow, red, black and white. The Medicine Wheel teaches us to seek balance in the physical, mental, emotional, and spiritual aspects of the circle of life.
The words 2021 – A Community of Faith for 75 years has been written below the logo in honor of our Anniversary this year.
May this new logo be a welcome sign for our community of faith each time it is used.
---